---
Summary
Wendell Holmes Murphy was born September 23, 1938, to Holmes & Lois King Murphy of Rose Hill, North Carolina, and is the brother of Harry Daniel (Pete) Murphy and the late Joyce Murphy Minchew. Wendell was raised in Duplin County on a farm in the Registers Crossroads area. He graduated from Rose Hill High School in 1957, received his Bachelor of Science degree in agricultural education from North Carolina State University in 1960 and taught vocational agriculture for five years in Green and Duplin counties. Wendell is married to Linda Godwin Murphy from Spivey's Corner in Sampson County. They have four children; Wendell Holmes (Dell) Murphy, Jr, Wendy Murphy Crumpler, Cindy Hairr Bass, and Wesley Hairr. They have seven grandchildren and one great-grandchild.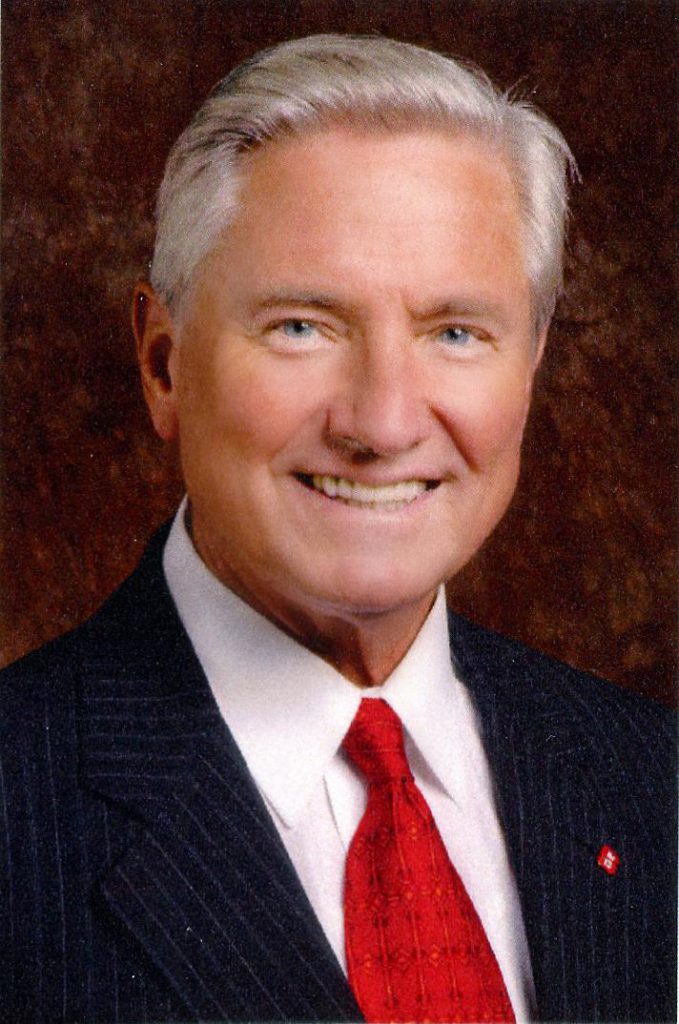 During Thanksgiving break in 1961, Wendell and his friend Billy Register were riding through eastern North Carolina and they saw a "grind & mix" feed mill. The friend said, "You know, one of those would work back home." Wendell said that simple statement was like a bolt of lightening to him and he knew that something he had been thinking about would work. He needed $13,000. He had saved $3,000 from his teacher's salary of $4,080. He went to his dad and asked him to sign a note at the bank for $10,000. He said convincing his dad was the toughest sale he had ever made, but in three years the note was paid! His younger brother Pete wanted to come to work at the mill but they couldn't afford to pay him, so they helped set him up in growing hogs that ate the corn ground at their mill. In 1963 the brothers began to concentrate on feeding hogs and in 1964 they began contract operations with area farmers. From there, this small grind and mix feed mill became one of the largest pork production companies in the world.
What Can You Learn From This Episode Of Popular Pig?
How did Mr. Murphy get started?
Why did Mr. Murphy evolve to contract production?
Who did Mr. Murphy hire that helped grow the business?
How did Mr. Murphy choose his team and evaluate people?
What was Mr. Murphy's leadership style?
How did collaboration pave the way for Mr. Murphy?
How did Mr. Murphy and his team reimagine pig flow?
How did they grow so fast?
Mr. Murphy's golden nugget
Wendell's Timeline
1962: Entered into a partnership agreement with his father, Holmes Murphy, to establish a custom grind and mix feed mill at Registers Crossroads, Rose Hill, NC
1963: Diversified by raising hogs
1964: Began contract operations with area farmers on open lots
1969: Established Murphy Farms, Inc.; Wendell was named Vice President
1974: Began contract confinement growing operations
1975: Was named Pork All American by the North Carolina Pork Council
1977: Wendell was named President and Chief Executive Officer, Murphy Farms, Inc.
1977: Marketing over 125,000 hogs annually; grain storage capacity of over 2,000,000 bushels
1979: Launched sow and farrowing operations
1980: Recognized as North Carolina's Outstanding Pork Producer and was elected as Vice President and Director of the North Carolina Pork Producers Association
2001: Inducted into the North Carolina Pork Hall of Fame
2007: Inducted into the National Pork Hall of Fame
Wendell has always had a passion for agriculture and for Duplin County. He also has a passion for helping others and for his alma mater, North Carolina State University. Below are listed some of his accomplishments, terms of service, and awards of recognition.
1977: Appointed to Governor's Advisory Committee on Agriculture, forestry, and the Seafood Industry
1983 – 1988: Served as a member of the North Carolina State House of Representatives, representing Duplin and Jones counties
1984: Named to North Carolina State University Chancellor's Circle of Gold
1987: Named Tar Heel of the Week by News & Observer
1987: Honored by NCSU School of Education as one of eight outstanding alumni
1987: Received North Carolina Agribusiness Council award
1988: Awarded the Order of the Long Leaf Pine by Governor James G. Martin
1989 – 1992: Served as a member of the North Carolina State Senate, representing Duplin, Jones and Lenoir Counties
1990: Named North Carolina Entrepreneur of the year by Ernst & Young, Inc. and Merrill Lynch
1992: Received the Duplin Industrialist of the Year Award presented by Duplin County Economic Development Commission
1992: Received the President's award at James Sprunt Community College
1992: Received the Golden Sea Hawk Award at UNC Wilmington
1992: Played a major role in establishing a College of Veterinary Medicine at North Carolina State University
1993 – 2009: Appointed to North Carolina Advisory Budget Commission
1993: Named Eastern Industrialist of the Year presented by Eastern North Carolina Chamber of Commerce
1993 – 1995: Served as a member of North Carolina State Board of Trustees
1996: Officially opened River Landing, an exclusive golf course community near Wallace, which has been a great asset to Duplin County and its surrounding towns and communities
1997: Featured in Forbes Magazine recognizing the 400 richest people in America (his picture was on the cover)
1999: Named one of the persons of the Century by the Wilmington Star
1999: Named by Business North Carolina as one of 20 TarHeel Titans "20 who changed the way North Carolina did business in the 20th century"
1999: Named by the News & Observer as one of the Titans of Business and Industry and one of "100 people who have shaped North Carolina in the past century"
1999: Recipient of the North Carolina State University "Watauga Medal", the university's highest nonacademic award
1999 – 2007: Served as a member of North Carolina State Board of Trustees
2000: Member, Executive Committee of Economic Development Coalition 2000
2000: Named one of the Business Tycoons of the Century by Progressive Farmer magazine
2000: Received the Melvin Cording Memorial Service to Duplin County Agriculture Award, presented by the Duplin County Agribusiness Council
2005 – 2007: Elected as Chairman of the Board of Trustees at North Carolina State University
2005: Received the Duplin Hall of Fame Award
2007: Received the Boy Scouts of America's Tuscarora Council Centennial Distinguished Citizen Award
2007: Received the North Carolina Association of County Ag Agents "Service to Agriculture Award"
2008: Received the "Harry Carlton Community Service Award" by the Wallace Chamber of Commerce
2012: Received the George Whitfield Hall of Fame Award
2013: Received the North Carolina Chamber's "Award for Distinguished Citizenship"
2013: Received the Bill Dooley Triangle East Chapter of North Carolina "Distinguished American Award"
2013: Served as a member of North Carolina State Board of Trustees
2014: Received the NCSU "Menscer Cup Award" along with wife Linda
2014: Inducted into the NCSU "Sports Hall of Fame"

Wendell says, "I've lived the American dream and it all happened because of my parents. Dad was the most honest hard working man I've ever known. He not only taught me to work, but to enjoy working. Over the years my motto has been: Do a lot better job than average and a little better than the best."